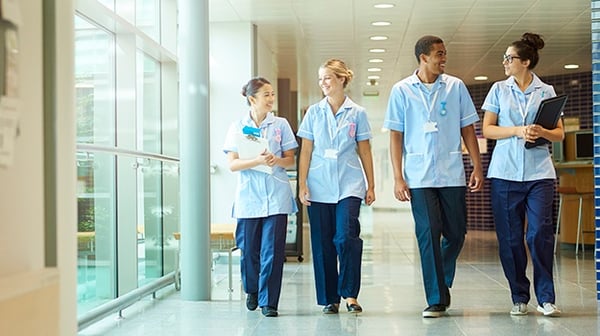 Falls are one of the most critical workplace safety issues. Falls impact the health and well-being of employees and can result in serious disabling injuries. And they are costly. The average cost of a lost-time claim involving a fall is $44,000, and the cost per injury for falls is third only to motor vehicle accidents and burns, according to 2016 Injury Facts by the National Safety Council.
"Falls" describes four types of incidents:
Slips

– lack of friction or traction between footwear and walking surface shifts the center of gravity
Trips

– foot collides with an object causing a loss of balance; increasingly more common with cell phone usage, which creates a lack of awareness of surroundings
Falls at the same level

– falls on a walking or working surface, or against objects above the same surface
Falls to a lower level below the walking surface, such as working on a ladder or a roof
Reducing Workplace Falls
To reduce falls in your workplace, start with an assessment that includes:
Fall frequency and severity statistics
Costs of falls, including indirect costs
Fall occurrence map, detailing fall locations and number of incidents by area
Trends – analysis of the incident types, locations and who is involved, along with trends in accident day and time, precise locations, and weather conditions
Use your data analytics to cultivate the upper management support—and financial resources—for your fall prevention program.
Organizational Improvement / Best Practices
The basis of your fall prevention program is facility audits/inspections. They will enable you to identify areas for organizational improvements and establish best practices for prevention.
Among the areas included in your audit should be:
Walking Surfaces

– Inspect walking surfaces for condition and maintenance. Repair any unstable surfaces, such as loose tiles or torn carpet. Secure any mats, rugs, or carpets that do not lay flat. Provide adequate clearances for doors, walkways, and aisles. Keep floors clean and dry, and remove any obstructions or tripping hazards. Routinely monitor walking surfaces that can be wet or icy such as sidewalks, building entrances, or food coolers.
Spill Clean Up

– Monitor any walking surfaces that are susceptible to periodic spills. Train employees to promptly clean up any spills. Provide clean up tools and materials in a nearby location so they are readily accessible. Use warning signs to mark any areas that are wet from mopping and cleaning. Follow instructions for any cleaners or floor treatments used in the facility.
Ladders

– Review your organization's policies for ladder use. Train employees on ladder use and maintenance. Make sure ladders are used to reach high places and that the ladder is the right height for the job.
Stairs

– Provide handrails for both sides of stairs. Keep risers between 7" and 11" high. Use a contrasting color to highlight changes in walkway elevation.
Floor Mats

– Mats are often purchased that are too small to be effective. Footprints or water prints should not be seen on the floor beyond the mat.
Visibility

– Good visibility is essential for preventing falls. Review your facility and grounds during different times of the day and seasons of the year to determine if lighting is adequate. Consider the times when visitors, pedestrians, or employees are on your premises. Provide additional lighting for walking surfaces, as needed.
Shoe Selection

– Establish a footwear policy. Consider an Employee Footwear Program that includes guidance for employees on appropriate footwear and periodic reimbursement to employees for proper footwear.
Key Takeaways
Periodically, ask yourself the following questions about your fall protection program, giving you a good framework to reference:
What policies do you have in place to prevent these injuries?
Do you have a Fall Prevention Program for all work from heights?
Do you have a ladder policy to train and maintenance ladders?
Do you have a formal shoe policy?
Do you have an inspection policy/audit policy?
Do you need help with resources?
Learn more about PMA Risk Control solutions