Strains in Your Workplace: What Really Can be Done About Them?
Posted on 02/27/18 by Bill Pudlewski, Risk Control Specialist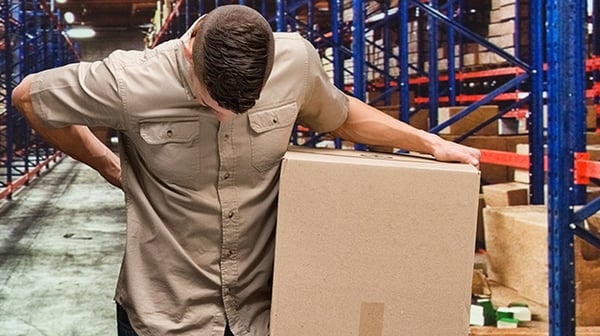 According to the BLS, 31 percent of lost-time workers' compensation claims result from strain injuries—and these injuries required a median of 12 days away from work for recovery. A PMA study revealed that strains had a 50 percent higher frequency rate than the next highest cause of workplace injuries, fall or slip injuries.
Strains can take the form of Musculoskeletal Disorders (MSD), Cumulative Trauma Disorders (CTD) or Repetitive Strain Injuries (RSI). These three soft tissue injuries result from ongoing "wear and tear" of tendons, muscles and sensitive nerve tissue that surround joints. Although every joint in the body is susceptible to cumulative trauma injuries, the lower back and upper limbs are the most common areas for these types of workplace injuries.
Employees may feel the effects of strain injuries in the following ways:
Loss of grip strength
Loss of range of motion
Loss of muscle function
Inability to do everyday tasks
Addressing Strains in the Workplace
Utilizing ergonomic strategies is key to preventing strain injuries and reducing your workers' compensation losses.
Ergonomics is the science and practice of designing jobs or workplaces to match the capabilities of the human body. It involves looking at workstation design and processes, tools and equipment, workplace layout and organization to determine how to keep workers comfortable working in a neutral position. The goal is to fit the job to the worker, not the worker to the job.
Benefits of ergonomic programs may include safer workers with fewer injuries, increased workforce efficiency and productivity, improved quality and fewer errors, and enhanced employee morale.
Start your ergonomics program by partnering with your workers' compensation carrier/TPA risk control professionals. Together, examine your organization's workers' compensation loss history, looking for ergonomic related injuries by location, cost center, department, shift, job task and job title. Interview key supervisors and managers to pinpoint where ergonomic issues and improvement opportunities exist.
Next, build a cross-functional ergonomics team under the guidance of your workers' compensation carrier/TPA risk control professionals. Include workers from areas experiencing ergonomic issues, as well as safety coordinators, engineers, machinists, equipment operators, production workers, maintenance team leaders and operation management, as appropriate.
Team members should be trained to identify ergonomic risks and how to resolve them. Training topics may include a review of employees' actual job tasks and discussions of ergonomic elements, basic ergonomic principles, risk factor identification techniques, and technical information on applicable topics, such as workstation and tool design.
Once the team has been established and trained, consider following a four-step process:
Identify ergonomic related risk factors and why they exist in your operations.
Brainstorm solutions to reduce or eliminate the risk factors that lead to injuries. It's important for the team to list all possible ideas and solutions.
From the brainstorming list, identify the "best practices" or most effective workstation/work flow modifications to reduce or eliminate the ergonomic risk factors.
Recommend ideas for improvements to management and assist with designing and delivering the corrective action.
Implementing an effective ergonomics program can make a huge difference to your workers and your workers' compensation program.
Learn more about PMA Risk Control Specialized Services
Bill is a Risk Control Specialist for PMA Companies. He delivers risk control services to PMA clients in diverse industries and leads PMA's Ergonomics Practice.