Risk Evaluation, Customized Solutions & Collaborative Engagement
PMA Companies (PMA) is a leader in providing risk control services. Our consultants function as an extension of your team, working collaboratively to evaluate your risk and develop customized solutions that protect your employees and reduce loss potential.
Our Service Approach
In consultation with our brokers, we assist clients by:
Conducting a Risk Evaluation: We evaluate your current environment, safety management programs, and employee engagement against industry best practices and compliance standards. As part of this process, we identify improvement opportunities in areas such as employee selection and hiring, orientation, ongoing safety training, accident reporting/investigation, safety committees and transitional duty.
Analyzing your Losses: Our analytics team will assess your losses to uncover leading historical trends that could point to future losses with serious implications.
Providing Consultation: We work with you at your convenience to provide onsite consultation and hazard assessments.
Collaborative Strategic Planning
At PMA, we meet you where you are to assist you with where you want to go. After conducting a risk evaluation and analyzing your losses, we guide you in the development of a customized risk reduction plan that prioritizes your loss drivers and serious risk exposures. We do this by:
Engaging your key stakeholders in implementing a plan with goals, performance metrics and accountability. This plan will guide the improvement process with strategies to eliminate and mitigate hazards, protect employees, identify and promote safe work strategies, and offer education resources and solutions.
Providing recommendations with targeted interventions to manage current losses and prevent future losses, all while developing a culture of safety. Our consultants will work with you to transform recommendations into actionable steps while helping monitor progress and adjust strategies as needed.
Customized Solutions
We offer a wide array of customized solutions that can be tailored to fit into your strategic service plan.
On-Demand Education & Training
PMA offers numerous educational resources for our clients' needs, including:
PMA Websource®: Our online portal of safety and risk management resources with handouts, streaming videos and safety program templates
Organizational Safety Institute®: Our virtual training led by seasoned risk control experts with both live and on-demand access
Business Analytics
More than ever businesses are leveraging data analytics to better understand their strengths and opportunities for improvement. We provide a myriad of data and solutions, including stewardship reporting, loss trending, industry comparison and goal establishment.
Specialized Services
Our risk control professionals are certified in areas that can be crucial to your employees' safety and your organization's success (Ergonomic Services, Industrial Hygiene, Occupational Health Services, Industrial Safety and Transportation/Fleet Safety).
Employee Wellness
Increasingly, the health and well-being of your workforce affects your workers' compensation program and costs. Any combination of morbidities (e.g., diabetes, high blood pressure, BMI, etc.) can increase the risk of a workplace accident injury or illness. We provide strategic services designed to impact your workers' compensation performance.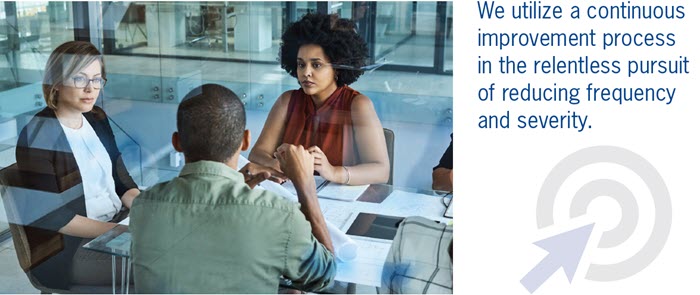 Our Dedicated Risk Control Team
Whether your strategic plan includes identifying and implementing proven slip/fall and strain prevention controls, conducting ergonomics assessments of office workstations, or implementing an accident investigation program, we've got you covered.
PMA invests significant resources in the education and credentialing of our staff. Our consultants are engaged in industry-focused practice teams. This reinforces their understanding of emerging issues and gives them an edge in solving risk management challenges. Our teams specialize in healthcare, education, ergonomics, manufacturing, and wellness, among others.